Hungry Henry
A read-aloud, fictional story with photographs of real food designed to look like friendly animals offers young readers a fun way to recognize and enjoy healthy foods
Join Henry on an imaginative dreamland adventure as he meets a blueberry sheep, a waffle turtle, and more! With each turn of the page, Henry grows hungrier and hungrier. Will he wake up to the breakfast of his dreams? Find out in this charming tale of healthy, playful food creations—perfect for inspiring nutritious choices that even the pickiest eater will enjoy!
Click here to learn how you can create some of Henry's animal friends using paper plates and other craft materials.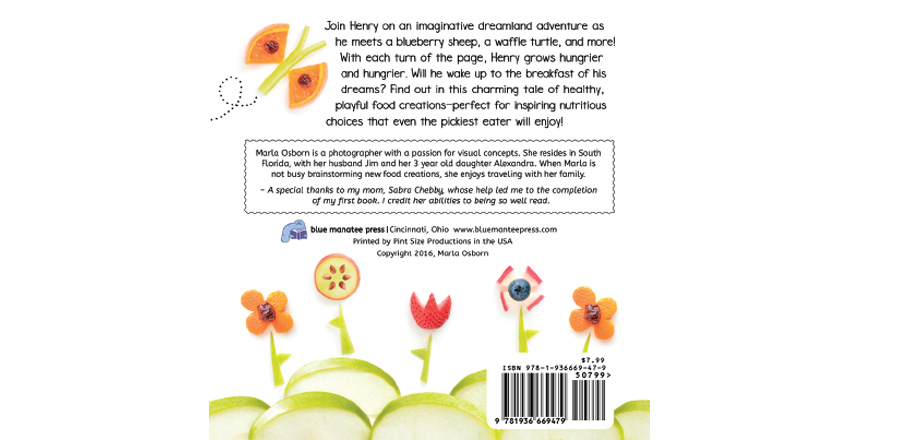 Reviews:
"Osborn's artistic and playful photographs do an exceptional job of bringing this story to life. The lively artwork will have your children running to the refrigerator or cabinet to find a healthy snack and will likely spark some creativity too." - Jill Sciacca, The Children's Book Review
"What delightful illustrations! The simplicity of Henry compliments the focus of the illustrations—animals and habitats made out of food! I am sure there will be a few food creations after reading this book." - Lola Snyder, MLS, Head of Youth Services, Jackson County Public Library, Seymour, IN
"Hungry Henry makes healthy foods fun with a sweet, simple story and beautifully stylized artwork that engages and captivates young readers. This imaginative book was an instant favorite with my toddler. " - Anne Myer, teacheatlove.com
"This cute concept works well in the board book format. The mixed media illustrations are a welcome treat as Henry, who is stick figure-like in simplicity, meets sweet animals crafted out of real foods...This simple tale will appeal to young children, who are just starting to identify and learn the words for different foods, but can be enjoyed by all readers." - Cara Frank, Youth Services Librarian, Clermont County Public Library, Amelia, OH
"Cute, attractive fruit and vegetable animals, nicely illustrated. Love that it rhymes." - Karen Wendler, World Eye Bookshop
"Author/illustrator Marla Osborn has truly made food come to life on the page! ...The story is simple and fun and the food creations will have your belly rumbling to read it again!" - Regina LaCaruba, Diapers-and-Daydreams.com Book Reviews
List Price: $7.99
ISBN: 978-1-936669-47-9
Publication Date: September 2016
Format: Board book
Dimensions: 5.5" x 5.5"
Page Count: 14
Ages: 0-3
About the Author & Illustrator:
Marla Osborn is a photographer with a passion for visual concepts. She resides in South Florida with her husband Jim and daughter Alexandra. When Marla is not busy brainstorming new food creations, she enjoys traveling with her family.