An old-school word book for the modern baby
Point and say to learn words from baby's world—animals, vehicles, food, family, and more! The latest from Sarah Jones's ROYGBaby board book series, Words for Me! is a must-have bookshelf staple for beginning libraries. Cute and colorful illustrations keep baby smiling, learning, and talking too! Perfect for engaging growing minds and helping with language development as children learn to recognize and name the objects in their world.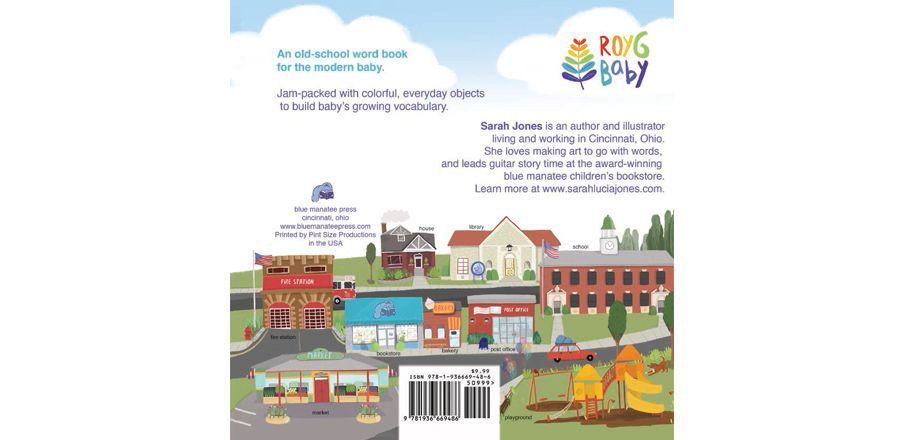 Reviews:
"A smattering of objects under each heading are displayed on a double-page spread, each item sweetly illustrated and clearly labeled...A solid vocabulary-extension tool." - Kirkus Reviews
"Jam-packed with colorful, everyday objects to build your little one's growing vocabulary…." - Regina LaCaruba, Diapers-and-Daydreams.com
List Price: $9.99
ISBN: 978-1-936669-48-6
Publication Date: September 2016
Format: Board book
Dimensions: 5.5" x 5.5"
Page Count: 22
Ages: 0-3
Series: ROYGBaby
About the Author/Illustrator:
Sarah Jones is an artist, educator and storyteller from Cincinnati, Ohio. Whether rocking musical story time at the award-winning blue manatee children's bookstore or painting creative critters in her studio, Sarah loves to spread joy through art. Sarah regularly exhibits her work in a broad range of venues and holds an MFA from the University of Cincinnati.