I want to be a Drummer!
Perfect for children who show an interest in music and instruments from an early age!
Daniel wants to be a drummer, but he doesn't have any drums. Follow along as he finds the musicality in everyday objects he discovers right at home, then have fun creating your very own drum set, sounds, and rhythms! A fun reminder that the joy of making music can be found anywhere.
Click here for a fun activity to go with the book—instructions on how to make your own "shaker."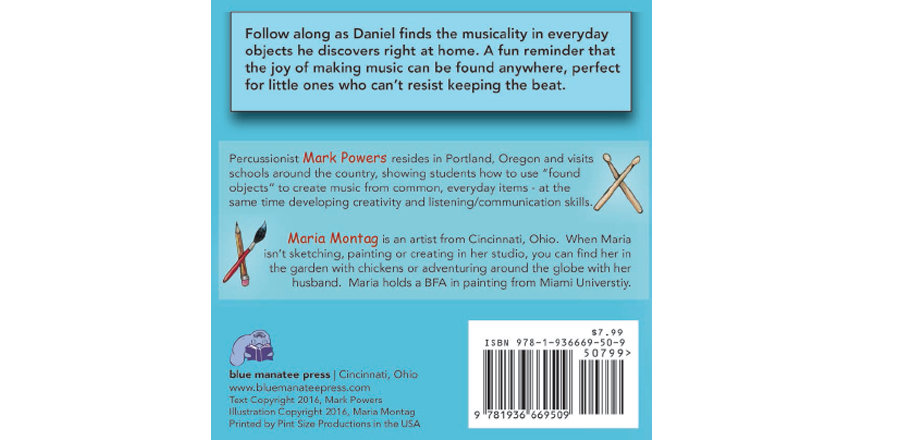 Reviews:
"The narrative is as straightforward as the illustrations, and little readers will love using it as a handy guide to building their own drum sets... Parents be warned: your little ones will definitely want to make some noise after reading this. A simple introduction to a favorite musical instrument." - Kirkus Reviews
"Mark and Maria did a really lovely job with this adorable book... It does go a long way to inspire children to search for musical notions in everyday household items." - Todd Sucherman, Drummer, Styx
"I love the gentle encouragement to create your own drum set out of found items around the house. Perfect for rainy/cold days playing indoors." - Lola Snyder, MLS, Head of Youth Services, Jackson County Public Library, Seymour, IN
"The beauty of I Want to Be a Drummer! is that it reminds readers of all ages that the joy of making music can be found anywhere... you just have to look around you and experiment. I highly recommend this storytime book for your young one." - Bart Elliot, DrummerCafe.com
"The book is a warm and elegant illustration of how many—if not most—of the world's greatest drummers get their start." - Joe Wong, The Trap Set podcast
"I Want to Be a Drummer! is a beautifully written and illustrated book that teaches young children how to problem-solve. It's a wonderful addition to my preschool classroom's library!" - Sheryl Cooper, Preschool Teacher and Writer at Teaching2and3YearOlds.com
"For every little one who has made a pot into a drum and a couple spoons into drumsticks, here is a book they'll love and can relate to!" - Regina LaCaruba, Diapers-and-Daydreams.com Book Reviews
List Price: $7.99
ISBN: 978-1-936669-50-9
Publication Date: September 2016
Format: Board book
Dimensions: 5.5" x 5.5"
Page Count: 14
Ages: 0-3
About the Author:
Mark Powers visits schools across the country, facilitating a variety of drum, world music and alternative percussion workshops. He teaches students how to use "found sounds" to create music from common everyday items. He resides in Portland, Oregon.
About the Illustrator:
Maria Montag is an artist and creator in multiple media. A graduate of Miami University, her sense of adventure has brought her as far as New Zealand, where she met her husband Trev. They reside in Cincinnati, Ohio, building their dream of a sustainable lifestyle for their future family.